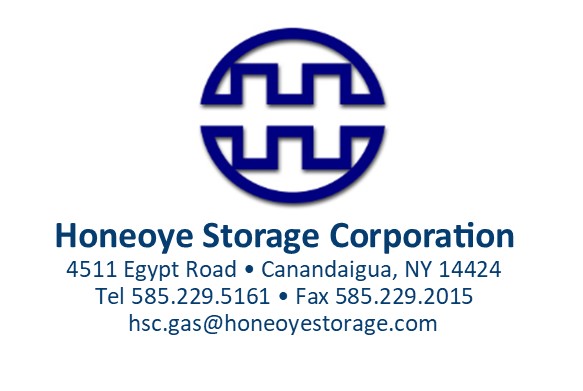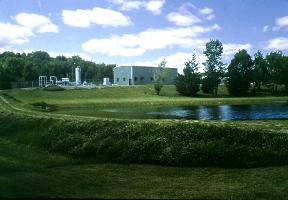 Honeoye Storage Corporation ("Honeoye") operates an independent gas storage facility located in the lush, rolling hills of Ontario County, NY, about 30 miles south of Rochester. Honeoye Lake, one of the renowned Finger Lakes, borders the field on the West. Canandaigua Lake is to the east. (See Maps)

Overview
Honeoye began operations in 1975 with a FERC certificate and 20-year storage contracts with the three major New York City utilities, Con Edison, Brooklyn Union and Long Island Lighting. Storage service was expanded in 1980 when the field pressure was increased. Boston Gas and Energy North were added to the list of key customers. The contracts became evergreen in 1995 under annual renewal options. Long Island Lighting terminated its contract in 1997 before the merger with Brooklyn Union and was replaced by ProMark Energy and Providence Gas.
When Providence and ProMark terminated their contracts Honeoye sought and received authorization from FERC (Docket Nos CP-93-000, 94-000 and 95-000) to expand the field further by increasing operating pressures. In 2000 FERC also authorized Honeoye to market both the expanded capacity and the former Providence capacity on open access, market-based rate basis.

The Facility
The storage field, a Medina age reservoir found at a depth of 2750 feet, covers an area that is about 12 miles east-west and six miles north-south, There are 27 operating wells, 12 observation wells, 19 miles of gathering lines, 2750 hp of compression and a 10.5 mile pipeline running north to the Tennessee Gas and interconnection (Maps).
The facility has been operated very efficiently for more than 30 years by a group of eight creative operators and supervisors whose term of employment with the company averages more than 30 years. Two founders, Dave Donohue and Dick Norman, provide management support and oversight from their Boston offices.

Authorized Expansion
Under FERC authorization issued in 2000, the maximum average reservoir pressure of the field was authorized to be increased from 927 psia to 1100 psia.

Two forms of service are available as follows:
Maximum Quantity
Stored (MQS)
MDth
Maximum Daily Withdrawal
Quantity (MDWQ)
Dth/D
Historical Part 157 Service
4292.4
35,780
New Part 284 Open Access Service
2426.0
20,100

The "Historical" service is committed to our long-term customers but the new, open access service is available to you and others on firm and interruptible bases at market rates.

Become One of Our Valued Customers
We would like your company to become one of our customers. This web site is designed to tell you who we are and what we have to offer. It also allows you to learn about and commit to the various services available. Even though this is the electronic age we would like to talk to you in person - to tell you more about how our personnel and facilities and see how we can work together more closely to meet your operating needs.
The benefits of contracting for storage service with Honeoye are many:
receive excellent and reliable service;
work with friendly, professional people who are looking for better ways to meet your needs; and
receive an invitation to attend our annual outing that includes a lobster and steak picnic.